*Click and Collect Only*
A nutritionally balanced, medium-calorie fibre feed containing the latest ingredients known to promote gut health including alfalfa
Dengie Healthy Tummy, a complete fibre feed based on alfalfa which is naturally low in sugar and starch. Alfalfa has shown to have natural buffering capabilities to acidity within the digestive tract making it the perfect base to Healthy Tummy. This contains Protexin In Feed Formula which combines antacids to help maintain optimum levels of acidity within the gut, as well as prebiotics and live yeast to promote efficient fibre digestion.
Healthy Tummy contains a unique blend of herbs for palatability including oregano, cinnamon and ginger which are also believed to contain powerful antioxidants.
High specification of vitamins including biotin, and minerals.
For horses in light to moderate work when fed at the recommended quantity no additional supplementation is necessary.
For horses in hard work Healthy Tummy may be fed alongside traditional mixes and cubes. Combines chopped and pelleted alfalfa for added interest and has a light soya oil coating.
Typical analysis (%) 'as fed'
| Digestible Energy | 11.5MJ/kg |
| --- | --- |
| Protein | 14 |
| Oil | 8.5 |
| Ash (Mineral) | 9.5 |
| Fibre | 27 |
| Copper | 12mg/kg |
| Selenium | 0.25mg/kg |
| Zinc | 64mg/kg |
| Biotin | 6mg/kg |
| Naturally Occurring Sugar | 4.5 |
| Starch | 2 |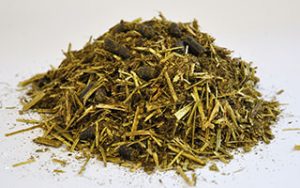 Ingredients
Alfalfa, alfalfa pellets, rape seed oil, vitamin and mineral premix, ADM protexin in-feed formula, yeast and prebiotics, herbs
The visual appearance of the actual product may vary due to environmental conditions during growth and time of harvest.
Healthy Tummy now in a 20kg bale.