Due to fluctuating feed costs please ring us on Tel:01622 844104 for current prices.
Dengie Meadow Grass with Herbs & Oil is a blend of meadow grasses, chopped, dried & dressed in rapeseed oil.
This Meadow Grass horse feed has a range of benefits including:
High in fibre, highly digestible, ideal for feeding alongside a balancer or supplement to provide a high fibre diet
A very clean source of fibre and so ideal for feeding to competition horses and ponies – can be used as a hay replacer if required
Includes carefully selected herbs – liquorice root, ground fennel, chamomile, aniseed and mint to keep your horse happy and healthy
The inclusion of grass pellets provides interest and texture
Naturally sweet, ideal for tempting fussy feeders
Free from artificial flavours, preservatives, molasses and straw
Typical analysis (%) 'as fed'
| Digestible Energy | 11.5MJ/kg |
| --- | --- |
| Protein | 12 |
| Oil | 10 |
| Ash (mineral) | 10 |
| Fibre | 20 |
| Naturally Occurring Sugar | 12 |
| Starch | 2 |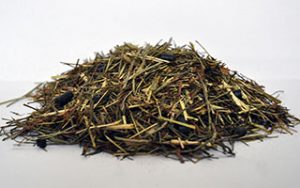 Ingredients
Chopped grass, grass pellets, rapeseed oil, herbs.
The visual appearance of the actual product may vary due to environmental conditions during growth and time of harvest.
Meadow Grass with Herbs comes in a 15kg bale