Due to fluctuating feed costs please ring us on Tel:01622 844104 for current prices.
A naturally nutritious 100% chopped grass feed with nothing added!
Made from pure British grown grasses including fescue, rye and meadow grass which is soft, easy to chew and highly palatable.
Key Features of Pure Grass
There are lots of benefits to using our chopped grass horse feed, including:
Flexible Feeding – suitable to use as a complete or partial hay replacer or extender to provide more enrichment in the stable as well as bulking out your horse's bucket feed
Harvested Early – to ensure it is highly digestible, making it sympathetic to the horse's digestive system
Free From – artificial flavours, preservatives, alfalfa, molasses, straw and coatings
Naturally Sweet – tempting fussy eaters
Versatile – Suitable for horses, sheep, cattle, goats and alpacas
Traceable from seed to feed – Non-GM
Typical analysis (%) 'as fed'
| Digestible Energy | 10 |
| --- | --- |
| Protein | 18 |
| Oil | 3 |
| Fibre | 20 |
| Naturally Occurring Sugar | 12 |
| Starch | 2 |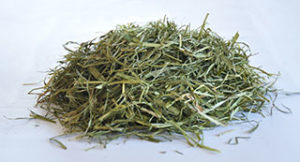 Ingredients
100% British Grass
The visual appearance of the actual product may vary due to environmental conditions during growth and time of harvest.
Pure Grass comes in a 15kg bale